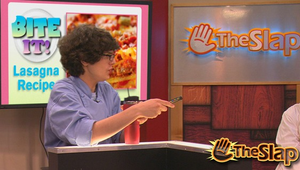 Bite It is the name of Robbie Shapiro's cooking show at the end of the episode Robarazzi that he set up with some older students from Hollywood Arts High School. The logo of the show looks like a doughnut with the words "BITE IT" in blue and purple lettering on it, with the B having a small bite taken out of it. The show is about Hollywood Arts students finding low fat recipes and healthy foods. So far, they have had recipes for onion rings, lasagna, and blueberry muffins.
This show was started after Tori, André, Beck, and Jade forced Robbie to shut down Robarazzi. It's likely that they helped Robbie create it, since after its 1st scene Tori says she wants a blueberry muffin, showing that she watched it and enjoyed it; however, this is not confirmed. It is unknown if the show continued after the episode, or whether or not it will make another appearance. However, seeing as Robbie was having a lot of fun on the show and all the upperclassmen who helped him with Robarazzi were enjoying themselves, it's possible that the show continued.
"Sing the next line!"
This article is a stub. You can help the Victorious Wiki By expanding it.
Ad blocker interference detected!
Wikia is a free-to-use site that makes money from advertising. We have a modified experience for viewers using ad blockers

Wikia is not accessible if you've made further modifications. Remove the custom ad blocker rule(s) and the page will load as expected.