Best Friend's Brother
Comments

77
815pages on
this wiki
Best Friend's Brother is a song sung by Tori (Victoria Justice), Cat (Ariana Grande), and André (Leon Thomas) in the episode, Prom Wrecker. The official studio version was sung just by Victoria Justice and co-written by Allan Grigg, Savan Kotecha, and Victoria Justice.
In the show
The song has nothing to do with any character(s) in the series, or any of the events in the episode. According to TheSlap, Cat makes the following statement about it:
"Live from the Hollywood Arts PROME, it's Tori's new song! And even though I'm her BFF, she's NOT singing about MY brother cuz my brother's weird.".
Lyrics
I call you up when I know he's at home I jump out of my skin when he picks up the phone
Why can I tell if he's lookin' at me?
Should I give him a smile?
Should I get up and leave?

I know it's strange, I don't know what I'm thinkin'
But is it wrong if I see him this weekend?
I really hope I can get him alone
I just don't, don't want her to know

Yeah, yeah, yeah, yeah-eh
My best friend's brother is the one for me
Yeah, yeah, yeah, yeah-eh
A punk rock drummer and he's six-foot three
I don't want to but I want to
'Cause I just can't get him out of mind and...
Yeah, yeah, yeah, yeah-eh
My best friend's brother is the one for me
B-F-B (Oh), B-F-B (Hey)
My best friend's brother, my best friend's brother

I try to think that I might be his type
'Cause when you're not around, he's not acting too shy
Sometimes I feel like he might make a move
Is this all in my head?
I don't know what to do

I know it's strange, I don't know what he's thinking
But it is wrong if I see him this weekend
I really hope I can get him alone
I just don't, don't want her to know

Yeah, yeah, yeah, yeah-eh
My best friend's brother is the one for me
Yeah, yeah, yeah, yeah-eh
A punk rock drummer and he's six-foot three
Yeah, yeah, yeah, yeah-eh
I don't want to but I want to
'Cause I just can't get him out of mind and...
Yeah, yeah, yeah, yeah-eh
My best friend's brother is the one for me
B-F-B (Oh), B-F-B (Hey)
My best friend's brother, my best friend's brother
B-F-B (Oh), B-F-B (Hey)
My best friend's brother, my best friend's brother

Cause he's such a dream
And you'd know what I mean
If you weren't related

Yeah, yeah, yeah, yeah-eh
MY best friend's brother is the one for me
Yeah, yeah, yeah, yeah-eh
A punk rock drummer and he's six-foot three
I don't want to, but I want to
'Cause I just can't get him out of mind and...
Yeah, yeah, yeah, yeah-eh
My best friend's brother is the one for me
B-F-B (Oh), B-F-B (Hey)
My best friend's brother, my best friend's brother
B-F-B (Oh), B-F-B (Hey)
My best friend's brother, my best friend's brother
Tori:
I call you up when I know he's at home
I jump out of my skin when he picks up the phone
Why can I tell if he's lookin' at me?
Should I give him a smile?
Should I get up and leave?

Tori and Cat:
I know it's strange, I don't know what I'm thinkin'
But is it wrong if I see him this weekend?
Tori:
I really hope I can get him alone
I just don't, don't want her to know

Tori and Cat:
Yeah, yeah, yeah, yeah-eh
With André:
My best friend's brother is the one for me
Tori and Cat:
Yeah, yeah, yeah, yeah-eh
With André:
A punk rock drummer and he's six-foot three
Tori: (Cat:)
I don't want to (Ahhhhhhhhh) but I want to
'Cause I just can't get him
Tori and Cat:
Out of mind and...

Cat: It's raining.
Tori: I know.
Cat: Should we stop?
Andre: Or you wanna keep goin'?
Crowd: [cheers]

Tori and Cat:
Yeah, yeah, yeah, yeah-eh
With André:
My best friend's brother is the one for me
Tori and Cat: (Audience:)
B-F-B (Oh), B-F-B (Hey)
My best friend's brother, my best friend's brother (What?)

Tori and Cat:
I kinda think that I might be his type
Cuz when you're not around
He's not acting too shy
Sometimes I feel like he might make a move
Is this all in my head?
I don't know what to do

I know it's strange, I don't know what I'm thinkin'
But is it wrong if I see him this weekend?
I really hope I can get him alone
I just don't, don't want her to know

Yeah, yeah, yeah, yeah-eh
With André:
My best friend's brother is the one for me
Tori and Cat:
Yeah, yeah, yeah, yeah-eh
With André:
A punk rock drummer and he's six-foot three
Tori: (Cat:)
I don't want to (Ahhhhhhhhh) but I want to
'Cause I just can't get him (with Cat) out of mind and...
Yeah, yeah, yeah, yeah-eh
With André
My best friend's brother is the one for me
B-F-B, B-F-B
My best friend's brother, my best friend's brother

Everyone: B-F-B, B-F-B
Tori: My best friend's brother, my best friend's brother
Everyone: B-F-B, B-F-B
Tori: My best friend's brother, my best friend's brother
Trivia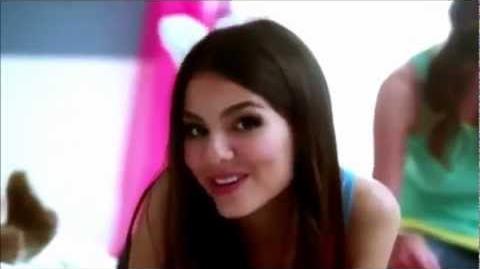 A music video for this song premiered Sunday, May 29th at 6:55 PM EDT during the credits of "Prom Wrecker".
Out of the Victorious cast, only Victoria Justice is feature in the music video.
This is the third Victoria Justice song to have a music video.
This is the fourth time Victoria Justice is promoting a single on the show.
This is the first time a music video of a song premiered after the episode aired.
This song was the first out of the series Justice actually had any input in writing.
The car that Victoria sits in during the second verse is a BMW-built Mini Cooper Convertible.
Two 1980's homages can be found in the music video:
In the first fantasy sequence, Victoria slides across the hall in shorts in a similar manner to Tom Cruise in the 1983 movie Risky Business.
A background dancer during the third chorus wears a T-Shirt reading "Frankie Says Relax," referencing the new-wave band Frankie Goes to Hollywood and their 1983 hit "Relax (Don't Do It)."
Cat (Ariana Grande) and André (Leon Thomas) sang live on the show as it could be heard properly,