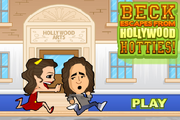 Beck Escapes Hollywood Hotties is a game on TheSlap. Beck and Jade have broken up and the former wants to get back together, but Jade says that if she catches him socializing with another girl she won't get back together with him. The goal is to guide Beck across a street full of "Hollywood Hotties" and to the doors at the end in which Jade might be in. The player must use their arrow keys to help Beck dodge the girls and get into all four doors.
Click here to play!
Click here to play if you live outside of the USA.
"Sing the next line!"
This article is a stub. You can help the Victorious Wiki By expanding it.
Ad blocker interference detected!
Wikia is a free-to-use site that makes money from advertising. We have a modified experience for viewers using ad blockers

Wikia is not accessible if you've made further modifications. Remove the custom ad blocker rule(s) and the page will load as expected.