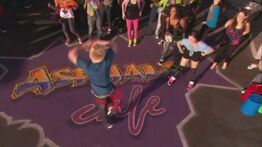 The Asphalt Café is the name of the eatery at Hollywood Arts. This is typically where most students eat lunch and buy provided food from the school. There is a indoor eatery, but, as confirmed on TheSlap, most students don't use it.
The Grub Truck is the only place to buy food, according to Festus' posts on TheSlap. Music is played overhead during lunch here, as shown in multiple episodes. It is also the usual spot for the Kick Back. Hollywood Arts' first prom (or "prome") was held here.
Scenes of The Asphalt Café are filmed in the Nickelodeon Sunset Studio parking lot. 
Tables They never mentioned how many tables there are but in April Fools they said "Two feeding children to table 16" so there are at least 16 tables, in the front you see the main tables with someting around 8 seatings and in the back there are tables for 2-4 people. The open area above is used for performances like singing, acting (Jade's play about the clown) and public speeches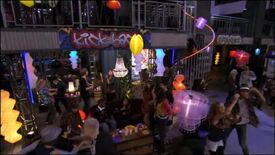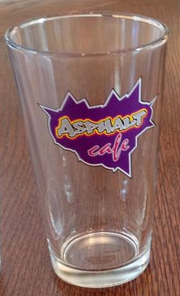 Events held here
Kick Back
The Kick Back is a Saturday night party at Hollywood Arts, that the teachers let the students have once a semester in the Asphalt Café. It was only seen in Cat's New Boyfriend and it is known that Tori has been there at least once.
Full Moon Jam
The Full Moon Jam is an annual showcase that has appeared in
Beggin' On Your Knees
and
Tori Fixes Beck and Jade
. It can be assumed, from the name, that it only occurs on nights with a full moon.
Cow Wow
The Cow Wow is a hawaiian/western dance that took place in the episode One Thousand Berry Balls. Tori and Andre performed the song Here's 2 Us at 9:00.
Episodes With Appearances
Ad blocker interference detected!
Wikia is a free-to-use site that makes money from advertising. We have a modified experience for viewers using ad blockers

Wikia is not accessible if you've made further modifications. Remove the custom ad blocker rule(s) and the page will load as expected.